As part of Stalford Academy's close-loop feedback and complaints management system which welcomes all feedback, we take all of cases of grievances and disputes seriously. We are committed to arrive at a resolution for all feedback regarding grievances and disputes within 21 working days.
If the complaint is not resolved amicably, or if the complainant is dissatisfied with the outcome, or if a resolution is not arrived at during this stipulated period of time, Stalford Academy shall refer the complainant to the CPE Student Services Centre, the Small Claims Tribunal (SCT) (for clear-cut fee refund issues of equivalent or less than S$20,000#) or the CPE Mediation-Arbitration Scheme for further action.
#For amounts that exceed SGD$20,000 but is below SGD$30,000, the claim can still proceed with SCT if both parties consent to it in writing.
The CPE Mediation-Arbitration Scheme comprises two stages; Stage 1: Mediation (by the Singapore Mediation Centre (SMC)), Stage 2: Arbitration (by the Singapore Institute of Arbitrators (SIArb)).
A private school's participation in the dispute resolution process is compulsory as stipulated by the PE Act. For the case to be eligible:
It must be relevant to private education and arise after the Dispute Resolution Schemes Regulations came into operation on 10 May 2010;
It must not be criminal in nature; and
It must not have received a judicial decision in the courts.

Students who encounter any related issues of grievances or disputes can contact the Academy via email at , via post at 12 Kallang Avenue #03-12, Aperia, Singapore 339511, or via the Academy's Duty Hotline at (65) 9621 5986. Any students in doubt or are facing problems with the school can refer to the Committee of Private Education's website at https://www.ssg.gov.sg/cpe/student-services/dispute-resolution.html. The Committee for Private Education (CPE) is part of SkillsFuture Singapore (SSG).

Please click on the link for more information about the CPE Mediation-Arbitration Scheme.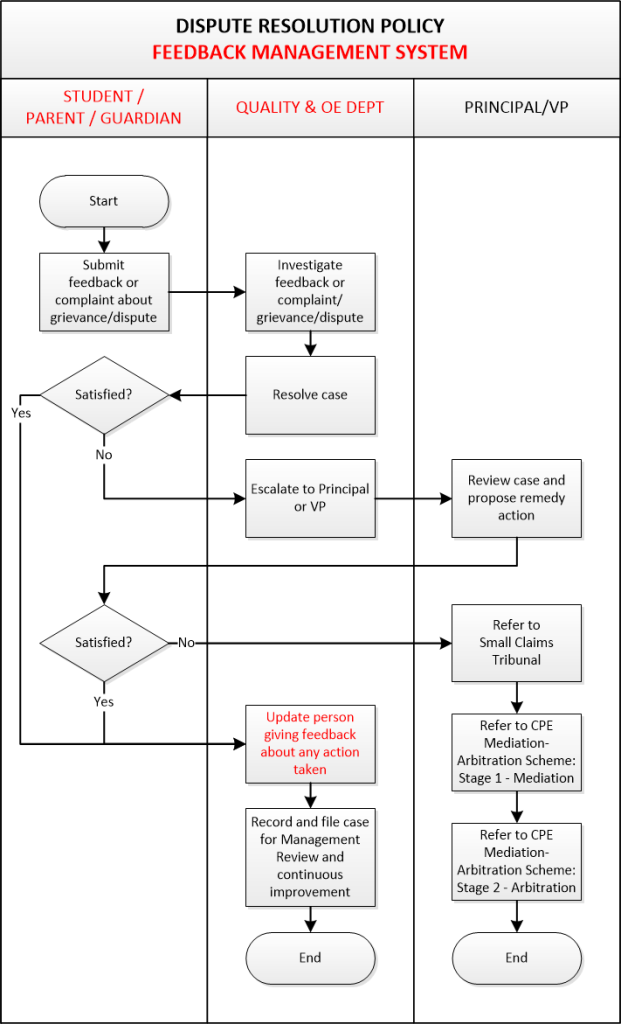 Notes:
All feedback and complaints received will be recorded. This includes any feedback received via formal or informal (verbal), complaint forms, website, overseas offices and any other mass media.
All feedbacks and complaints received will be directed to the Learning Quality Manager.
Feedback and complaint records shall be submitted to the CPE annually.