PREPARATORY COURSE FOR ADMISSION TO GOVERNMENT SCHOOLS (PRIMARY 2/3/4/5)
Stalford Academy's preparatory courses for admission into government schools for academic levels from primary 2 to 5 are specially designed to prepare foreign students seeking admission into local mainstream government schools.
In this preparatory course, extra emphasis is being placed on building your proficiency of the English language as well as application of Mathematics so that our students will be equipped with a strong foundation that will thoroughly prepare them for the required entry tests prior to admission into government schools. Students can expect to undergo daily intensive lessons to not only learn about the necessary academic knowledge but pick up examination skills as well.
Entry into government schools for international students can take place via two major means: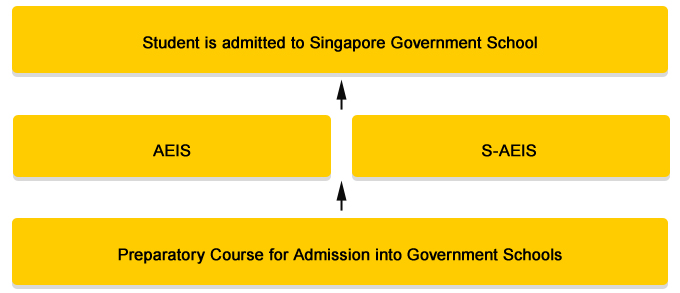 General Information
Course Duration: 12 Weeks (Full-Time) or 24 Weeks (Full-Time)
Course Delivery Method: Classroom Teaching
Lesson Hours: Mondays to Fridays, 8.30am to 11.30am and 12.30pm to 3.30pm
Total Contact Hours: 360 contact hours for 12-week programme
720 contact hours for 24-week programme
Lesson Venue: 12 Kallang Avenue #03-11/12/13/14, Aperia, Singapore 339511
Requirements for Completion of Course
Certificate of Completion awarded by Stalford Academy, after successful completion of course.
International Students (Student's Pass holders) must achieve at least 90% attendance and not be absent for more than 7 consecutive days without valid reasons.
Mode of Assessment
All internal examinations will be in the form of written papers. A total of 2 Continual Assessments will be conducted.
Course Details
| | | | | | | |
| --- | --- | --- | --- | --- | --- | --- |
| Planned School Level | Min Age | *Max Age | Course Title | Course Level | Duration (Months) | Duration (Weeks) |
| Primary 2 | 7 | 9 | PREPARATORY COURSE FOR ADMISSION TO GOVERNMENT SCHOOLS (PRIMARY 2) (6 MONTHS) | Preparatory | 6 | 24 |
| Primary 3 | 8 | 10 | PREPARATORY COURSE FOR ADMISSION TO GOVERNMENT SCHOOLS (PRIMARY 3) (6 MONTHS) | Preparatory | 6 | 24 |
| Primary 4 | 9 | 11 | PREPARATORY COURSE FOR ADMISSION TO GOVERNMENT SCHOOLS (PRIMARY 4) (6 MONTHS) | Preparatory | 6 | 24 |
| Primary 5 | 10 | 12 | PREPARATORY COURSE FOR ADMISSION TO GOVERNMENT SCHOOLS (PRIMARY 5) (6 MONTHS) | Preparatory | 6 | 24 |
Note: All courses are conducted on a Full-Time basis.
* Maximum Age as at at 1st January of the year of admission to government school
Download more details on Preparatory Course for Primary 2/3/4/5 and Secondary 1/2/3